There are many articles online around adopting siblings together. One such article is written about the advantages and challenges faced. In this article, the writer describes the relationship between siblings as "the longest relationship we will experience in our lives, outlasting parents and pre-existing future loved ones", they explained that siblings are each other's very first friends, and so many social skills are developed through these relationships. When you think about it, most of life's early experiences are shared with them. Needless to say, the bonds that siblings share can be very strong and very powerful.
Children waiting to be adopted have already experienced so much disruption and loss in their lives. Often the connection they share with a sibling is the only source of continuity in their lives and can offer them a sense of support and safety.
When children are separated from their birth siblings, not only can this cause them to experience further loss, it can also leave them feeling more isolated and anxious.
Adopters for Adoption is an adoption agency that aims to increase the number of sibling groups that are adopted together as we feel that these relationships are incredibly important to maintain.
Through most of our pre-planned phone calls, we make to our enquirers, we find that a majority of people when asked, say that they are interested in adopting one child. However, this will be discussed with you in more detail throughout the assessment process and you may be asked to consider children outside of your original preference, as the whole process can teach you new things about yourself, what you are capable of and how you may be able to meet the needs of these children. One element you are asked to consider, of course, is adopting more than one child.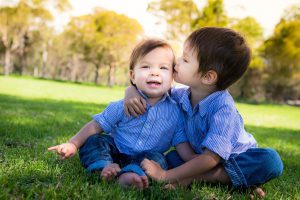 The impact that you can have on the lives of siblings by adopting them together can be so rewarding. There are many touching moments and experiences that you can gain from adopting siblings that you wouldn't have through adopting a single child.
There are many touching stories that can be found online about adopting siblings, but in particular, there is one on First4Adoption which I think is worth a read. This is a short blog by an adoptive parent of siblings and the impact on their lives adopting two children has had. Although not always easy, they have found it to be a wonderful experience.
Whilst family finding, you will still need to consider that if matched with a single child, they may still be part of a sibling group, or their birth family may have another in the future. This can bring with it an array of things for you to think about – such as being required to maintain direct or indirect contact with their siblings who may still be in foster care, or have been adopted themselves.
In these cases, a contact plan is put together and written into the Adoption Order, and once the Adoption Order is granted it is then down to you, the adoptive parents, to maintain this contact.
Hopefully, this has given you some food for thought around adopting siblings together. There are many types of children waiting to be adopted, and it is always worth researching to see whether or not this is something you could consider.