With Father's day being just a few days away, a day in which we celebrate and honour fathers, fatherhood and paternal bonds, we want to talk about and celebrate adoptive fathers.
An adoptive dad can be part of a heterosexual couple, a same-sex couple or even be single. As long as you are able to provide a safe, loving home for a child, your relationship status or sexual orientation does not matter – you all have the right to adopt in the UK.
In order to be eligible to adopt a child, you must meet the below requirements:
Be at least 21 years of age
Be a resident of the UK
Not have any convictions for particular offences
It has not always been possible for same-sex couples to adopt, in the earliest days of adoption you could adopt if you were single (regardless of sexual orientation) but not as a couple. In 2005, the Adoption and Children Act gave LGBT couples the same legal rights to adopt as heterosexuals. The adoption figures in the year ending 31st March showed that 420 adoptions in the UK were to parents in same-sex relationships, civil partnerships and same-sex marriages. Here at Adopters for Adoption, 14% of our adopters with placements are same-sex couples.
Research into adoptive families with same-sex couples shows that their quality of parenting and relationships are not affected, children's psychological development and well-being is the same and adopted children do not face any greater problems when at school.
One of our LGBTQ+ adopters writes some fantastic blogs on his adoption experience, and they are well worth a read.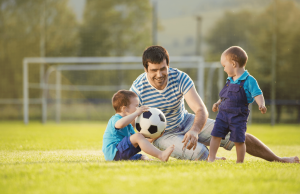 There are many non-adoptive households in the UK that have children being looked after by a single parent, and since the earliest days of adoption single people have been able to adopt. Being in a relationship has nothing to do with wanting to take care of and nurture a child, so as long as you are able to provide a safe and loving home, your relationship status doesn't matter.
There are things to consider when thinking about adopting as a single parent, such as your lifestyle, employment, finances and even your romantic relationships. Though you are single now, you may not be forever – and once you have an adopted child, bringing somebody new into their life may not be as straightforward as it would be for birth children.
Did you know that at Adopters for Adoption 1 in 8 of our approved adopters are single, and are a combination of both men and women?
Many adoption agencies support same-sex adoption and single adoption, and the adoption process that you go through still consists of the same stages, checks and information.
Here at AFA, we are proud to support same-sex couples, LGBT couples and single adopters in becoming adoptive parents.
From everyone here at adopters for Adoption, we hope that you all have a fantastic Father's Day.