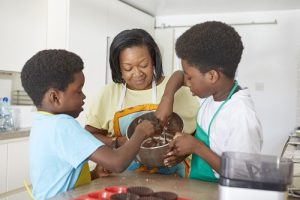 The Easter holidays are fast approaching which signals one of the most enjoyable times of the year. School is on hold, spring is in the air, the days are beginning to grow longer, and there is plenty of egg-hunting fun to be had with your adoptive child or children.
To ensure you make the most the break, we've put together a list of exciting activities for you to do, providing bonding experiences for you and your adoptive child/children. If you've also got birth-children, it will allow them to bond over the fun festivities… and perhaps enjoy a little chocolate too!
1. Hold an Easter Egg Hunt
Whether it's indoors or outdoors, there's no better way to keep the magic of the Easter Bunny alive than to host an egg hunt in your very own home. Consider planning a treasure egg hunt where children have to answer clues to find their next egg, this is sure to fill the house with laughter! If you have younger children, tap into their imagination instead by creating your very own 'Easter Bunny' footprints leading to chocolate-treats!
2. Make Chocolate Nests
Cooking in the kitchen with children provides them with practical experience with many essential skills such as reading, following directions, and measuring – but above all, it's totally delicious! We recommend trying these easy-to-make chocolate nests which are fun for all ages:
Add 100g of butter, 1 tbsp cocoa powder, 50g milk chocolate buttons and 75g of golden syrup in a bowl.
Microwave on high for 1.5mins and mix together.
Crumble 4 Shredded Wheat over the bowl and mix with rest of ingredients.
Place a generous spoonful in each of 12 bun case (the nests).
Press the centre of each nest down slightly to form a dip and place 3 chocolate mini eggs in each dip.
Chill for 30 minutes before serving.
3. Plan Bunny, Bunny, RABBIT!
If your kids have plenty of energy (perhaps after a few too many chocolates), this is the game for them! As you've probably guessed, this is an Easter variation on the classic duck, duck, GOOSE game. Here's how to play:
Sit the kids down in a circle and select one child to be "it".
The "it" child walks around the outside of the circle patting each player on the head and saying "bunny" until they want to say "RABBIT".
Both the "it" child and the RABBIT must hop around the circle trying to reach the vacant spot.
Whoever doesn't make it to the spot in time is then "it".
4. Make Easter Cards
Perfect for a rainy day activity; all you need are some colouring pencils, paper and scissors to make some Easter cards. Not only is this ideal for children of all ages, it's a great keepsake to send to grandparents and loved ones to help build bonds with new family members. Once complete, they can then take pride of place on top of any mantelpiece!
5. Read Some Classics
Bedtime reading with your children is the perfect time to reflect on the day. We recommend these Easter classics to share with your little ones at bedtime – you may even recognise a few from your childhood: The Tale of Benjamin Bunny, The Tale of Mr. Tod, The Tale of Peter Rabbit and The Rabbit Who Wants to Fall Asleep. Don't forget your local library is a fantastic resource to get books to share with your children at home.