Did you know that the UK has 15 National Parks?
That's 15 parks with beautiful scenery, fun walks and hidden treasures right on our doorsteps waiting to be discovered. These parks include the Brecon Beacons, the Peak District, the Yorkshire Dales and many others.
Each year, National Parks put together a family festival — aptly named National Parks Week. This festival is aimed at celebrating and promoting everything that is unique and special about our national parks.
National Parks Week this year runs from Monday 23rdto Sunday 29th July and a week-long calendar of events has been put together that families can attend, some of which are free or of little cost.
With the summer holidays being in full swing at this point, this presents an excellent answer as to how to entertain your children!
So, first of all – let's talk about why should you get active and get walking with your children. Here are just a few reasons:
It's fun! Children love the adventure of seeing new sites
It's relaxing– walking and running helps your child to let off some steam and helps clear their heads.
It can be sociable– children can either bond with their friends and sometimes even meet new ones along the walk
The exercise will make them feel good– Did you know that exercise can help calm your child and help them focus? Who would have thought that something as simple as walking could help them in schoo
Walking promotes independence – Instead of them being stuck in a car or being told where to go they can choose the journey. Let them choose the direction you take, when and where to stop for lunch and what you do next.
It's healthy! Exercise helps strengthen their muscles ion their legs and arms and helps develop cardiac and respiratory capacity.
What other reasons do you need?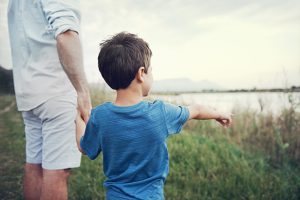 As adoptive parents, you'll always be looking for ways to bond with your adopted child(ren) and taking a walk with them can be a great way to do just that… Imagine sneaking through New Forest as Robin Hood and his merry men, or climbing through coves at Pembrokeshire Cost as Blackbeard and his crew – or letting your child create a world of their own.
There are many great reasons to get out and about with your children, and National Parks Week presents an excellent opportunity to do so. Remember to take photos and add them to your child's life story book or memory box for them to treasure.
Remember though, walking doesn't need to be restricted to National Parks Week – or National Parks – even simple things like walking to and from school or walking to the shop and back can have the same benefits.