National Autism Awareness Week is recognised from 1-7th April every year to celebrate people with autism. At Adopters for Adoption, we are proud to support children with autism in order to provide them with better lives and a chance of finding their forever family.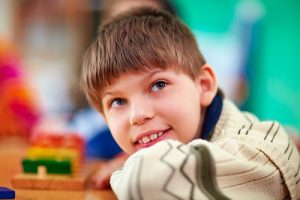 Autism Spectrum Disorder (ASD) is an umbrella term used to describe complex disorders impacting brain development that can range from mildly to profoundly disabling. These disorders are characterised, in varying degrees, by difficulties in social interaction, verbal and nonverbal communication and repetitive behaviours.
Children with autism may have trouble using and understanding other children's and adults' behaviours and gestures, including facial expressions. They may have difficulty participating in make-believe play (e.g. pretending to cook a meal). They may seem unaffectionate and unfriendly. They may have delayed or no speech and have difficulty understanding what they hear. They may repeat words they hear or use words inappropriately or use an unusual inflection or tone of voice.
Finding Families who can adopt children with disabilities, such as autism, can be challenging; although in our experience, it can be a very rewarding experience for adoptive parents. As autism is quite a specialist area, not every prospective adopter will feel that they are able to meet the needs of a child with autism. However, some potential adopters will have relevant experience, this could be through their job or from within their own family environment meaning they could offer the perfect home for a child with autism.
For some children placed for adoption it is not evident that they have autism until they are older or they have settled into their family. It is not always easy to achieve a formal diagnosis.
If you have the relevant experience and wish to adopt a child with autism, or believe that it might apply to your child, we suggest using the following tips recommended by Help Guide to help children with autism thrive:
Learn about autism – the more you learn and understand about ASD, the better equipped you'll be to make informed decisions about your potential adoptive child and, if you have an existing family, the impact this will have on your wider family.
Become an expert on your child – take the time to ask your social worker questions about your child or the potential child you could be adopting. It is useful to know if there any particular triggers that result in challenging behaviour and how to overcome these positively.
Accepting difference – Enjoy their special quirks, celebrate their differences and try not to compare them to others. Children are all different and showing unconditional love for a child will help them to feel secure and accepted for who they are.
Don't give up – It's impossible to predict what life is going to be like when adopting a child with autism. However, like everyone else, children with autism have an entire lifetime to grow, develop their abilities and meet their full potential.
When adopting a child with special needs, it is also worth considering whether you could meet the needs of a child with autism. All children have some level of uncertainty but adopting a child with a known disability requires someone who can cope with a potentially high level of need that, at times, may prove very challenging.
There are many things adoptive parents can do to help children with ASD overcome their challenges. But it's also important to make sure you get the support you need. When you're looking after a child with ASD, taking care of yourself is not a luxury or an act of selfishness – it's a necessity. Our team at Adopters for Adoption has extensive experience of working with children with autism, their families and carers and can support adopters to understand how they could meet each particular child's autism needs.