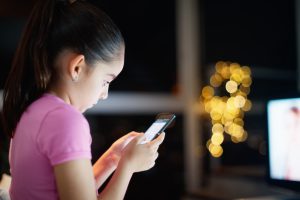 With the current Covid pandemic affecting us all and meaning more time indoors, we could all do with a reminder of some of the useful resources that are out there to help us keep our children safe.
Instead of the A – Z we have used the our name 'Adopters for Adoption' instead.
A – Awareness is really important when you start to use the internet. We all need
to make sure that we know how to use it properly and how to make sure we keep
ourselves safe.
D – Discuss any worries that you have on your device with an adult. That can be
a parent or someone you can trust like a grandparent or a teacher.
O – Online, do we know what are children are doing online? Sign in to 'Think you Know' to learn more.
P – Passwords are very important on the internet. Teach your children to keep their information safe
T – Think you Know
https://www.thinkuknow.co.uk
E – Emails. Does your child have an email account? Do you know who they are
emailing and who is emailing them. Make it your business to talk to your child about keeping their information safe.
R – Resources for many of the activities that children do on line are available to
parents and carers. Choose one of the many different sites to find the one you
like. Here is another of my favourites. I have put a few different ones on here for
you and here is another of my favourites.
https://www.saferinternet.org.uk
S – Shopping. Never shop on a site unless the URL has the "https" and padlock icon in the address bar. If possible, use a credit card for purchases too as you're more likely to be reimbursed if anything goes wrong.
F – Footprint – Your PC, laptop or tablet and phone all keep a record of the
websites that you are visiting and leave a trail in cyberspace – even if the emails are delete an the history cleared.
O – Online Radicalisation. Radicalisation by extremist groups is becoming
increasingly evident online. They attempt to influence vulnerable people and
unfortunately manage to do so via social media, chatrooms and instant messaging.
R – Ratting Not quite the rodent kind, but still not pleasant to experience. One
type of spyware becoming increasingly common is known as a RAT (Remote
Access Trojan), which criminals use to access your device to take control of it to
obtain private information. They're usually downloaded invisibly so make sure you never download anything from an untrusted source and take care about what links you click on in emails.
A – Accepting emails, friends on social media and opening images and text from people you don't know or trust can get you in to some difficulty. It can mean that you put viruses in your tablet or phone or get some really horrible messages that are not nice.
O – Online parental controls offered by different internet providers. Keep your
children safe at home and set the correct controls
https://www.saferinternet.org.uk/advicecentre/parents-and-carers/parental-controlsoffered-your-home-internet-provider
P – Parents' Ultimate Guides – Struggling to keep up with the media and tech your kids are using? Common Sense's Parents' Ultimate Guides can help keep you up to date and answer your questions about all the latest titles and trends. Whether you're trying to figure out if a new app is safe for your teen
or if a popular game includes blood and gore, we've got you covered.
https://www.commonsensemedia.org/parentsultimate-guides
T – TicTok is a social media platform that lets you create, share and discover 60 second videos. It is extremely popular at the moment and many children are using TikTok to communicate with their friends. Please note TikTok does have an official age rating of 13+
https://www.net-aware.org.uk/networks/tiktok/
I – Identity – As useful as the Internet may be, it's also a hotspot for identity thieves. Email scams, spyware and viruses are among the most common methods of stealing personal information like bank details, addresses etc.
O – Our Pact – The complete Screen TimeParental Control App
https://ourpact.com
N – Net Aware is a useful resource to look at some of the different apps that
the children are using. If you are unsure about the app, pop it in the search and it will tell you about the age restriction and whether it is appropriate for your child. https://www.net-aware.org.uk/