Same Families Podcast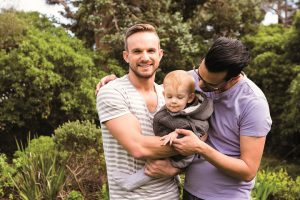 Adopters for Adoption have recently been contacted by Stu Oakley from Some Families. They wanted to introduce us as they believe their podcast will be of interest as a resource to some of the families thinking about, or currently going through, the adoption process, especially LGBTQ+ adopters.
They were the first LGBTQ+ parenting podcast that launched in the UK and are committed to sharing stories of different families from the queer community and being a fun and entertaining source of information and support for those already on the parenting journey or for those just about to embark on it – or for those that simply curious about queer parenting.
Stu Oakley co-hosts and is himself an adoptive parent. A number of their guests are also adoptive parents and we have many discussions around adopting from an LGBTQ+ lens.
Some Families only launched in early March but the feedback they have had from those that follow and listen to
them they has been incredible – see some quotes to the right. St Oakley also featured in The Times to discuss his own
story.
You can find them @somefamiliespod on Instagram, Twitter and Facebook and you can listen wherever you get your podcasts, including Apple and Spotify. Some more info below.
They have some exciting plans ahead including more ways to share more stories about real LGBTQ+ families. Plus they are always on the lookout for future guests so if you think any of your families might be interested in actually joining us on the show then let them know.
Reviews of the Some Families Podcast
'Warm, Funny, Insightful' – The Times
'Absolutely wonderful new podcast' – Adoption UK
'So necessary and so wanted by out community' – @amumcalledmama
'I'm so happy this exists. A truly fascinating listen' – @lesbemums
'Such a moving, intereting and important podcast.  Refreshing and empowering' – Joey M
If you would like to know more about how to adopt a child with Adopters for Adoption or would like to learn more about adoption, then please get in touch with our friendly team who will be happy to help.