Henrietta's adoption story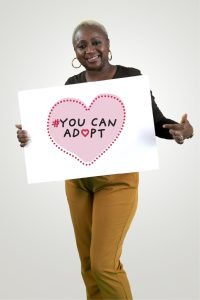 Henrietta and her husband Deji had been married for 15 years and had tried IVF before  considering adoption. Their son was 18 months when the couple adopted him, having spent 6 months prior in foster care.
Due to Henrietta's work as an adoption manager in her local area she understood the process of adoption but had to apply outside of the local authority where she worked.
Talking about the adoption process, Henrietta said: "Because of my work I understood the process and could advise my husband why certain information was needed. Overall the assessment process was very quick."
"You obviously have to talk about your life story, and why in terms of your motivation to adopt. That's  understandable because you are taking on a responsibility of a child, therefore it is really important that we are open and honest throughout the process. Ultimately, this honestly will help aid the process and ensure you are matched with the child that is right for you."
Prior to her son moving in, Henrietta recalls he had a talking book to help him prepare for the change and they met him several times at his foster home. Henrietta said: "The first time he came home it went better than expected. I expected him to cry but he slept throughout the car journey and through the night. Sometimes he would have bad nights while he settled in but I slept on a mattress in his room so he would know I was nearby."
Henrietta said she expects her son to have questions about his origins through different stages of his life and answering these will be central to developing his identity, Henrietta says: "A child's sense of self and identity is so important to helping him or her feel confident in themselves and as such, as with all adoptive parents who are able to, a key part of our son's upbringing will be to ensure that he is knowledgeable about his adoption story."
Speaking of her son Henrietta comments: "His name means he has brought us joy, and he really is a blessing to us. He's popular, caring, communitive and very intelligent and gifted, he's also top of his class in mathematics."
Talking specifically about cultural barriers to adoption, Henrietta says: "I speak from the perspective of an African woman. A barrier is usually pressure from immediate family members for a woman to have children to carry on the bloodline, there can be stigma if a woman does not have a birth child."
One piece of advice she would give to other people in the community considering adoption is: "Go for it, don't let anything hold you back."
"For those who are concerned about what others will think, I would say, define your own happiness and do what is important according to your own personal circumstances. For me personally, I found that my friends and family were very supportive and embraced our son; generally, those around you want your happiness and once they know you are comfortable with a decision, people tend to get behind you – that's my experience."
Talking specifically about the support available, Henrietta says: "Some people may not know where to start, and to these individuals, I'd say, speak to other people in your community who have adopted – if you don't know anyone who has adopted, the adoption agencies should be able to help. Importantly, there is support at every stage of the adoption process. You are never alone."