Searching for a Child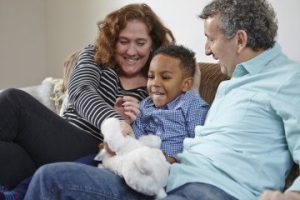 Children for adoption are referred in a number of ways and your social worker will support you at looking at adoption profiles and expressing an interest in a child or group of siblings, who interest you and whose needs you feel you can meet. If the child's social worker feels that you may be the right family then meetings will take place to discuss the child in more detail allowing you to get as much information as possible.
Once you are approved by the agency as 'suitable to adopt' we will assist you through the next stage of looking for a child to adopt. We will meet with you and complete a Matching Plan Agreement which outline the process in identifying a child/ children for whom you may be suitable – this is called 'matching'. The law has changed to make it easier for potential adopters to find children themselves, so you may already have found a possible match by the time you go to Panel.
You will also be provided with information about Linkmaker which acts to link approved adopters with the agencies who are seeking placements for babies and children for whom they might be appropriate.
All children waiting for adoption have a social worker and they will also want to make sure that you and your family are right for this child. If all parties think there is a good match, there will be a Matching Panel and after a period of introductions, the child will move into your home. If all goes well, an Adoption Order will be made by the court. You will be then be your child's legal parent.
Make an Enquiry
If you'd like to find out more or begin the adoption process, please don't hesitate to contact our team on 0800 5877 791 or use our contact form and we can send you an information pack to help get you started.